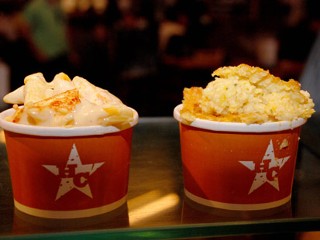 Ingredients
1 favorite pie dough or prepared pie dough
2 ounces finely grated Longhorn Cheddar or yellow cheddar cheese (for tops)
1 pound DeCecco brand mini Penne Rigate or other small
4 cups half and half
4 tablespoons (1/2 stick) unsalted butter
6 tablespoons unbleached all-purpose flour
1 teaspoon smoked paprika, plus more for garnishing
Sea salt and freshly ground black pepper to taste
4 ounces gruyere cheese, grated, best-quality
16 ounces extra-sharp Longhorn cheddar or white cheddar cheese, grated, best-quality
6 ounces Fontina cheese, best-quality
2 ounces grated real Parmesan-Reggiano cheese
Special Equipment:
2 inch Biscuit Cutter
2 mini muffin tins
Cooking Directions
Preheat the oven to 350°F.
Bring a large pot of water to a boil. Add the pasta and cook at a rolling boil until just tender. Drain, rinse under cold water, drain again and set aside in a large bowl.
Bring the half and half just to a boil in a heavy saucepan and set aside. Meanwhile, melt the butter in another heavy saucepan. Add the flour, and whisk over low heat for 5 minutes. Do not brown. Remove from the heat. Add the hot liquid to the flour mixture, and whisk well. Add the paprika, season with the salt and pepper, and return the pan to a low heat. Add half of all of the cheeses and stir until combined . Cook over medium heat, whisking constantly, until the mixture thickens; about 5 minutes. Add cheese and stir until it all melts. Add sauce to the pasta. Toss well to coat completely. Let cool to room temperature.
Meanwhile, roll out your dough and using a 2-inch biscuit cutter, cut circles of dough from crust. Place crust in a mini muffin time and prick the bottom. Place another mini-muffin tin lightly over the crusts -- this will prevent the dough from shrinking. Pre-bake the crust in oven for 7-10 minutes or until set. Let cool and spoon the mini Mac & Cheese into the cups. Sprinkle the tops with the yellow cheddar. Re-bake Mac & Cheese cups in a 350 F oven for 10 minutes or until brown on top and cheese sauce is bubbly.